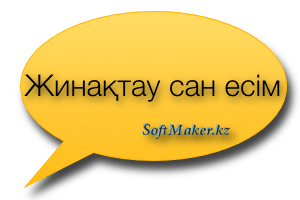 Good day, dear readers of the SoftMaker blog.kz! Collective numeral (jınaqtaý san esim) of the Kazakh language represents a collection of homogeneous objects. Jınaqtaý san esim is formed from cardinal numerals (from bir to jeti) using the ending -aý (after a hard base) and -eý (after a soft base).
The contents
Examples of collective numerals
There are 7 collective numerals in the Kazakh language:
| | |
| --- | --- |
| Bireý | One |
| Ekeý | Two |
| Úsheý | Three |
| Tórteý | Four |
| Beseý | Five |
| Altaý | Six |
| Jeteý | Seven |
Collective numerals have possessive and take case endings in simple and possessive case:
úsh – eý – miz — the three of us
ek – eý – iń — the two of you
ek – eý – ińiz — the two of you
ek – eý – i — the two of them
When adding these affixes to the numerals eki, alty, and jeti, the final -y/-i are dropped:
alt/y/aý — "alty"
ek(i)eý — "two"
jet(i)eý — "seven"
The use of collective numerals in sentences
Biz beseýimizde. The five of us.
Bizdiń top úsh brıgadaǵa bólindi, onyń bireýinde 11 stýdent, ekeýinde 10 stýdent, úshinshisinde 9 stýdent boldy. Our group was divided into three teams, the first — 11 students, the second — 10 students, and the third — 9 students.
Úshinshi brıgadanyń altaýy er bala, úsheýi qyz bala edi. Six of the third brigade were boys, three girls.
Biz jeteýmiz. There are seven of us.
Úsheýimiz júrgende, tolyp jatqan kúsh edik. When we went in threes, we were a big force.
Meniń kitabym ekeý. My second book.
Altaý ala bolsa aýyzdaǵy ketedi, tórteý túgel bolsa tóbedegi keledi. If six people are apart, they lose what's in their mouths, and if four people are together, they get what's in the heaven.
[ddownload id="2930″ text="Нажмите эту кнопку, чтобы скачать книгу со всеми падежами казахского языка"]
https://tili.softmaker.kz/wp-content/uploads/2020/04/Collective.png
200
300
softmaker
https://tili.softmaker.kz/wp-content/uploads/2021/03/tili_logo.png
softmaker
2020-04-14 14:53:47
2021-03-10 09:36:25
Collective numeral (jınaqtaý san esim) of the Kazakh language